Achieve Your Financial Goals
Planning Today for Tomorrow
Sherwood Investments has been helping clients of all ages in the Seattle area as well as nationwide for over 20 years.  We provide financial planning, investment planning, estate planning and investment management services.  We are a financial fiduciary – totally independent and 100% fee-only, charging no commissions.  Our only compensation is based on the value of your portfolio.  So when your portfolio grows, we both benefit.
We work with you to understand your goals and situation so that we can develop a sound investment strategy.  Only then are we able to develop and manage a diversified investment portfolio for you.  Sherwood Investments is proud to have helped many clients retire financially secure.
With Sherwood Investments, you won't receive a stagnant, generic, once-a-year financial plan.  Instead, we continually monitor your financial situation as well as broad economic conditions to efficiently update your investment strategy and investments, when needed – not just once a year.
We want you to be financially secure, even during times of significant change, such as before and after retirement, children leaving for college or death of a spouse.  Using strong planning and investment principles, along with open communication, exceptional service, and outstanding investments, we build trust and long-term relationships.  All calls are returned the same day, whenever possible.
In our years of experience managing investments, we've fine-tuned our proven, six-step process.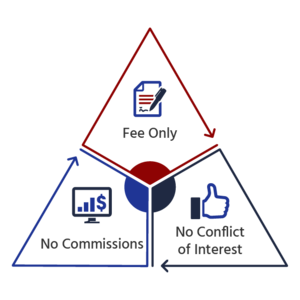 What is a Fiduciary?
A fiduciary cannot accept any commissions or have any conflicts of interest.  Because we are a fiduciary, our recommendations are always in your best interest.  We even put this in writing for you.
Have more questions?
Don't hesitate to contact us with any questions or concerns, or to book an appointment.  No matter where you reside, we'll work closely with you.  We look forward to hearing from you.
"Our only compensation is based on the value of your portfolio. So when your portfolio grows, we both benefit."